We offer a wide variety of different repairs, to suit all requirements for all makes and models of vehicles. We are always updating our repair list to give our customers the most efficient and up-to-date technology when completing the work required.
Replacing batteries is common upon the colder months of the year as this is when the battery will be under the most strain. Sometimes there can be a drain on the battery causing it to fail rather than it being at the end of its life. Our technicians test the batteries state of health and state of charge. This will indicate to us if there is another fault causing the battery to fail that needs further investigation.
We can supply various brands to suit all budgets. We are finding a lifetime warranty on batteries very popular meaning that as long as you own the vehicle if the battery fails again it will be a straight swap, so you will never purchase another battery again!


A cambelt is a vital part of your vehicles engine, which needs replacing after a certain period of time or after a certain amount of miles. This varies for every vehicle, we can however find out for you what the manufacturer guidelines are for you if you do not have a handbook available. If a cambelt snaps on a vehicle it can cause irreparable damage to your engine, meaning you need a new engine. Cambelts are sometimes referred to as timing belts. Here we never replace just the belt we always replace the whole 'kit' which includes the pulleys and bolts as these elements get worn to.
Camchain is also referred to as timing chains, which unlike the belt, this is only replaced once the chain becomes noisy. The lifespan of the chain is considerably longer than the belt because of this. Again it is something we replace as a whole kit to make sure it is all working efficiently.
Specialist tools are required to replace cambelts/camchains on various makes, models and engine sizes. We pride ourselves on our vast collection of specialist kits which enable us to carry out a massive selection of belts and chains.
Having clutch failure is a failure of the clutch over a long period of time. Common tell tale signs is the clutch slipping and the pedal being hard to push down which indicates the clutch plate to be worn. If you suspect your vehicle to have a faulty clutch then please book it in as faulty clutches can be dangerous. Our technicians will take your vehicle for a road test and be able to diagnose any faults.
Clutches can be an expensive job that happens at an inconvenient time so please ask about our payment assist plans – they are FREE TO USE!!! They are there to help spread the cost of unexpected bills and to make the payments more manageable for you.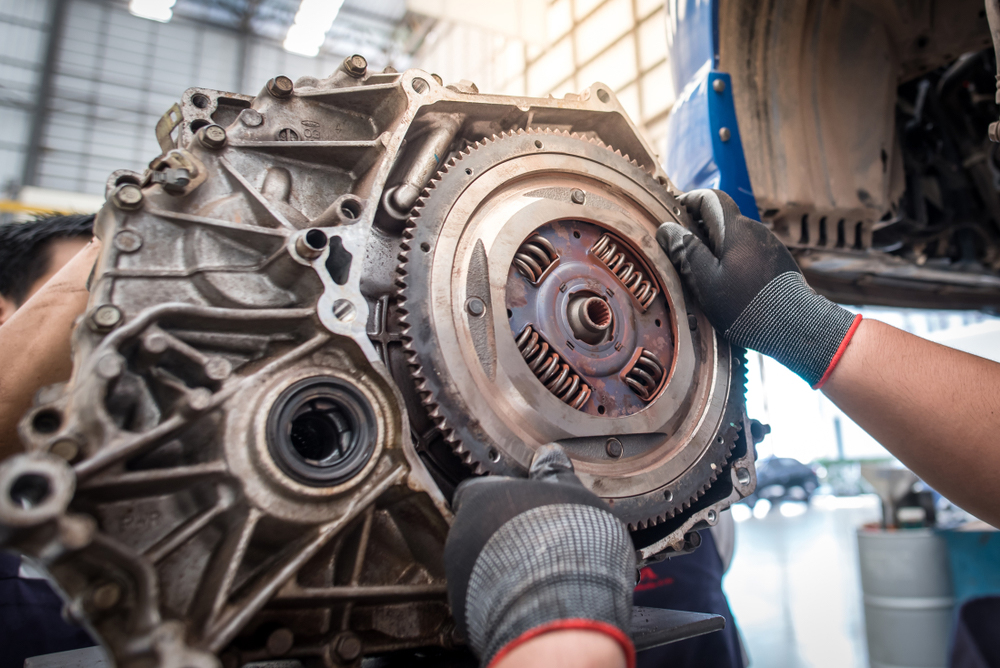 Diagnostic work is needed regularly within the motor industry, when a fault light displays on your dash board, a diagnostic scanner check is needed to find out where the issue is located. It does not fix the problem but it guides the technicians into the fault area to carry out further diagnostic  work.
At Manby Motors Limited we like to ensure our customers understand why parts need replacing, which is why they plan diagnostic procedures very carefully in order to find and rectify the fault with as minimal disruption and cost to you. Nothing is ever replaced without prior permission from the vehicle owner.
Diagnostics in the motor industry is always evolving which is why we invest as much as we can in the latest equipment, software, software updates and training in order to ensure you are getting the best experience possible.
Exhausts are usually the first items that need replacing on newer vehicles as they are under vehicles and exposed to all weather elements. This causes them to rust or damage easily. We can offer a wide variety of different brands for replacement on exhausts, sometimes we even fabricate sections of exhausts or the connecting parts. This could be due to obsolete parts from main dealer or it could be to save costs for our customers.
Exhausts often blow which means it isn't connected properly, sometimes they can even drop off where it is just rusted so much it can no longer support itself. Exhaust parts are normally easy to get hold of on the same day meaning you could bring it in the morning for an inspection and by evening have a new exhaust section or system.
If you are unsure about your exhaust condition call us today on 01507 327222 and the team will book you in.

TOWBARS
We offer a wide range options when it comes to towbars, which means we can cater to any needs that you have. We can fit fixed towbars or detachable ones. There is a choice on the sockets so we will ask you questions on what you intend to tow, eg a caravan or trailer.
Having reversing sensors can make fitting towbars difficult but our team can advise you on what is the best option for you if you are unsure.
Give our team a call today to book in or for any advice on 01507 327222.